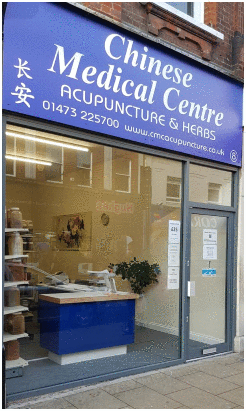 Opening Hours For Both Clinics (Ipswich / Colchester)


| | |
| --- | --- |
| Monday | 9:00am - 4.30pm |
| Tuesday | 9:00am - 4.30pm |
| Wednesday | 9:00am - 4.30pm |
| Thursday | Closed |
| Friday | 9:00am - 4.30pm |
| Saturday | 9:00am - 12.30pm |
Closed on Sundays and Bank Holidays
Treatments at the Chinese Medical Centre
In both our Ipswich and Colchester Clinics we offer the following three major treatments:
ACUPUNCTURE

 

Acupuncture is a form of treatment involving insertion of thin steel needles which stimulate vital energy points. Its aim is to regulate the channels of energy, re-establish the energy balance and to relieve pain.

 

We only use disposable needles.

 

CHINESE HERBAL MEDICINE

 

Herbal treatment includes dry herbs to be taken as tea, herbs in tabled form, powders and lotions. These are prescribed on diagnosis to improve general condition of the patient and to correct the body's imbalance.

 
 

ACUPRESSURE

 

Acupressure is Chinese medical massage, using manipulative movements and varying degrees of pressure on special areas to correct imbalances, relax spams, relieve pain and achieve harmony in the body's system.